FEATURE FOCUS – DUAL-LAYER DECK SWITCHING
Each Denon DJ SC5000 Prime player features two layers (decks) with independent sound cards for each. This means a two-unit setup allows DJs to easily mix on four decks. Each unit has onboard analysis of songs for key, tempo, beat grid.
Posted 4th September 2018
---
A terrific innovation in a single Pro DJ media player, the SC5000 Prime is armed with not one, but two actual deck layers, controlled by one unit and capable of beatgrid locked synchronization. The rear of the SC5000 has dedicated audio outputs for these layers (A&B) offering some incredible options for creative and forward-thinking DJs – you can drop an instrumental on layer 'A', with an a capella playing on layer 'B.' Or, how about looping a breakbeat on layer 'A' as your set end track, while handing off to a fellow DJ who's scratching a sax sample over the top of the mix on layer 'B' – the possibilities are endless!
Denon have designed the SC5000 to give the DJ some extra help using layers. From changing the jog wheel and LAYER button RGB colour for each, to showing the track progress on the full waveforms next to each other, there are enough tools to help minimise the problems caused by layers. There's also MIDI takeover on the pitch fader for when you're beatmatching, meaning you can switch between decks seamlessly without fear of your tempo suddenly jumping.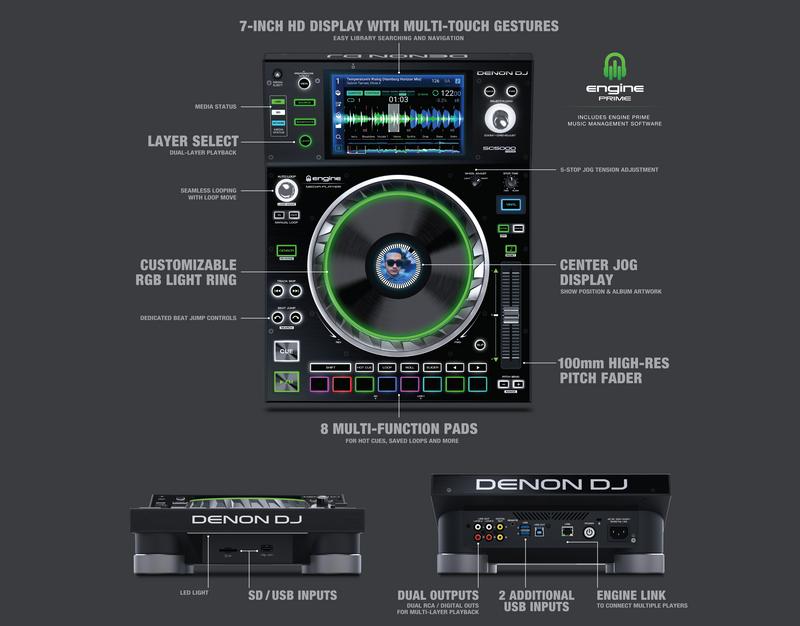 MORE ABOUT THE DENON DJ SC5000 PRIME...
PROFESSIONAL MEDIA PLAYER WITH 7" MULTI-TOUCH DISPLAY
There's a new Player in Town!
The Denon DJ SC5000 Prime represents a real paradigm shift in DJ Technology, right here, right now. This groundbreaking digital DJ Media Player has a high definition, hi-contrast display that enables multi-touch gestures for the ultimate in latency-free, tactile track navigation, load and playback. The SC5000 is also the world's first DJ Player capable of on-board music file analysis, really empowering you with its innovative dual-layer deck capability and an 8-inch rugged jogwheel with central display that displays either current playing track or custom artwork.
Engineering & Performance Innovations
Powered by a dedicated, multi-core internal processor, the SC5000 runs 'Engine Prime v1.2.' This latest version of Denon DJ's music librarian software is onboard the unit, offering you direct access and convenient performance features, so you can be at your creative best. The SC5000 doesn't stand in the way of your creativity—it works with you and gets out of the way!
Unique on the SC5000 is its bank of eight multifunction trigger pads that deliver unprecedented creative expression for your hot-cues, loops, slices and roll playback – all safely locked down by the SC5000's insanely accurate beatgrid analysis. Up to four SC5000 Players can be LAN networked for synchronized data transfer between units, plus you get enhanced BPM and FX possibilities using 'Engine Connect' protocol to work with Denon DJ's new X1800 Prime, 4-Channel mixer.
Customizable DJ Tech
Once a USB drive or SD card is inserted, the SC5000 remembers any previously entered DJ preferences, ensuring that from within the 'Engine Prime' eco-system, the unit recalls every one of your performance preferences and settings. This includes any previously performed track cue points, loop regions, playback history, preparation folders and of course any live, on-the-fly, track analysis. Like we said, the SC5000 works with you and gets out of the way!
Visual customization is highlighted by your choice of main primary colours for the SC5000 Prime's 8-inch (touch-capacitive) jog-wheel LEDs, in addition to using your own DJ brand logo or selected track artwork on the beautiful central display. On the SC5000 touchscreen, elegant zoom-in and zoom-out of the big, beautiful track waveforms brings you to the pinnacle of musical timeline visualization.
Audiophile Routing Beyond Expectation
The SC5000's unique dual-deck playback facility makes the unit literally '2-decks-in-1,' and with dedicated outputs for each layer, brings you imagination-driven, music playback possibilities with the ultimate in sonic and mix control. The audio outputs are 24-bit/96kHz for the very highest sound quality, and of course the SC5000 Prime plays all uncompressed audio formats, including FLAC, ALAC and WAV, plus all popular compressed music files. The Denon DJ SC5000 Prime returns you to 'The Original Artform,' bringing back passion and creativity alongside performance transparency, with the blindingly fast DJ technology that you deserve!
FEATURES
7-inch HD display with multi-touch gestures

24-bit/96kHz digital audio outputs

Dual-layer playback with individual audio outputs

Plays uncompressed audio formats (FLAC, ALAC, WAV)

8 multifunction trigger pads for Cues, Loops, Slices and Rolls

8-inch rugged metal jog wheel with HD central display

Customizable RGB color around the jog wheel

(3) USB and (1) SD input for music playback

LAN output to link to up to four players

Import Rekordbox® files and database content from an inserted USB/SD, directly into the SC5000
PACKAGE CONTENTS
SC5000 Prime Unit

USB 3.0 Cable

2 Sets of Gold Plated Stereo RCA Cables

IEC Power Cable

Display Cleaning Cloth

Ethernet Link Cable

USB Extender Cable

User Guide

Safety & Warranty Manual